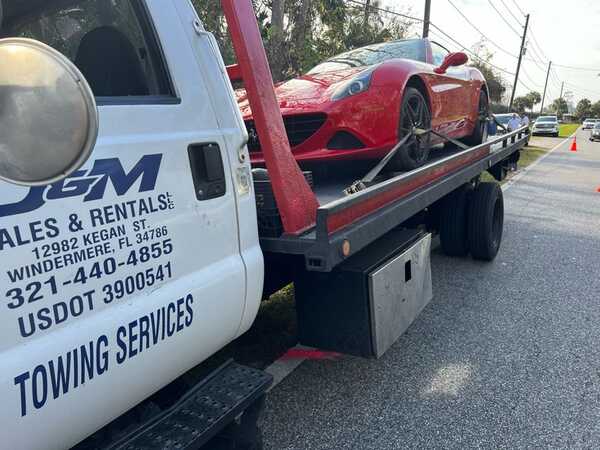 OUTSTANDING CUSTOMER SERVICE
J&M Windermere Towing is known for our excellent customer service, going above and beyond to ensure that every customer receives personalized attention, prompt assistance, and a positive towing experience.

FAST AND TRUSTED SERVICES
J&M Windermere Towing prides itself on delivering reliable services, consistently surpassing customer expectations with their professionalism, efficiency, and dedication to resolving towing needs swiftly and effectively.

TRAINED EXPERTS YOU CAN TRUST
J&M Windermere Towing boasts a team of highly skilled experts who possess extensive knowledge and expertise in the field, allowing them to tackle towing challenges with precision, ensuring the safe handling and transport of vehicles.
J&M Windermere Towing offers dependable towing services in Oakland, Florida. Our experienced team is available 24/7 to provide efficient and reliable towing solutions for all your roadside emergencies. Contact us today for trusted towing assistance in Oakland.
Whether you encounter a vehicle breakdown, an accident, or any other roadside emergency, our dedicated team is here to assist you promptly and efficiently. With our commitment to customer satisfaction, we aim to provide dependable towing services that ensure your peace of mind in Oakland.
Call Us For A Great Tow
At J&M Windermere Towing, we understand that emergencies can happen unexpectedly, leaving you stranded in Oakland. Our team is available 24/7 to provide prompt and efficient towing services whenever you need us. We prioritize your safety and work diligently to minimize any inconvenience caused by vehicle breakdowns. With our modern tow trucks and skilled operators, we ensure your vehicle is handled with care and transported securely to its destination.
No matter the size or type of your vehicle, we have the expertise and equipment to handle all your towing needs in Oakland. Whether you need motorcycle towing, car towing, SUV towing, or light commercial vehicle towing, our diverse fleet of tow trucks is equipped to handle any towing job efficiently. We strive to provide comprehensive solutions that cater to your specific requirements and ensure the safe transport of your vehicle.
From Our Lot To Your Lot To Safety
In addition to towing services, J&M Windermere Towing also offers emergency roadside assistance in Oakland. We understand that not all situations require towing, and sometimes a minor issue can be resolved on the spot. Our skilled technicians are equipped to provide jumpstarts, tire changes, lockout services, fuel delivery, and more. With our reliable roadside assistance, we aim to get you back on the road swiftly and efficiently.
Your satisfaction and the safety of your vehicle are our top priorities. Our towing operators and technicians are experienced professionals who possess the necessary skills and knowledge to handle various towing and roadside assistance scenarios. With their expertise and attention to detail, you can trust that your vehicle will be handled with the utmost care and professionalism.
Cheap Towing In Oakland
At J&M Windermere Towing, we believe in providing transparent pricing and excellent value for our towing services in Oakland. We offer upfront quotes with no hidden fees or surprises, ensuring you have a clear understanding of the cost involved. Our rates are competitive, and we strive to deliver exceptional service that justifies your investment in our towing solutions.
J&M Windermere Towing proudly serves the community of Oakland and its surrounding areas. Whether you're located near Lake Apopka or within the charming neighborhoods of Oakland, we are just a phone call away. Our team is familiar with the local roads, ensuring quick response times and efficient towing services tailored to the unique requirements of the area.
When you require dependable towing services in Oakland, Florida, J&M Windermere Towing is your trusted partner. With our prompt response, comprehensive solutions, experienced team, transparent pricing, and commitment to customer satisfaction, we strive to deliver top-notch towing assistance. Contact us today for trusted towing services in Oakland, and let us handle your roadside emergencies with efficiency and care.
Call J&M Windermere Towing at (407) 584-3391.
Satisfaction Guaranteed!
J&M Windermere Towing is a leading towing company in the Windermere community, known for their exceptional service and commitment to customer satisfaction. With a team of highly skilled professionals and a fleet of well-maintained tow trucks, we offer reliable and efficient towing services for vehicles of all sizes. Whether it's a lockout situation, a jumpstart, or a vehicle recovery, J&M Windermere Towing is the trusted partner to rely on for prompt assistance and top-notch service.

I was incredibly impressed with their service. Their team arrived promptly, handled my vehicle with care, and provided excellent customer support throughout the entire towing process. I highly recommend J&M Windermere Towing for their professionalism and reliable towing services.

I had a fantastic experience with J&M Windermere Towing. Their team was friendly, efficient, and went above and beyond to assist me when I was stranded on the roadside. I highly recommend their services for anyone in need of fast and quality towing assistance.

I cannot thank J&M Windermere Towing enough for their exceptional service. They responded quickly to my call, provided a seamless towing experience, and their staff was professional throughout. I highly recommend them for their customer-centric approach.