Windermere Motorcycle Towing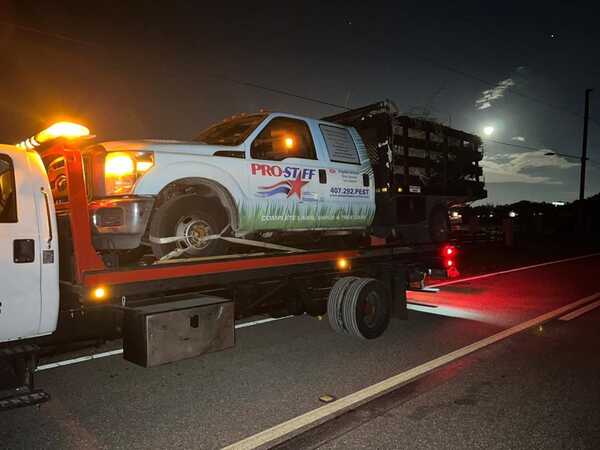 OUTSTANDING CUSTOMER SERVICE
J&M Windermere Towing is known for our excellent customer service, going above and beyond to ensure that every customer receives personalized attention, prompt assistance, and a positive towing experience.

FAST AND TRUSTED SERVICES
J&M Windermere Towing prides itself on delivering reliable services, consistently surpassing customer expectations with their professionalism, efficiency, and dedication to resolving towing needs swiftly and effectively.

TRAINED EXPERTS YOU CAN TRUST
J&M Windermere Towing boasts a team of highly skilled experts who possess extensive knowledge and expertise in the field, allowing them to tackle towing challenges with precision, ensuring the safe handling and transport of vehicles.
Ah, the exhilarating world of motorcycling—a pastime that truly ignites our passion. There's nothing quite like gliding along the picturesque roads of Orange County on a big ole hog.
However, we understand that even the most reliable bikes can experience unexpected breakdowns. In such moments, who can you trust to provide reliable motorcycle towing services throughout the vast expanse of Orlando, Florida?
J&M Windermere Towing is here to cater to your motorcycle towing needs just as aptly as we do with cars and trucks. Our expertise extends to the world of motorcycles, and we are fully equipped to handle the towing requirements of these chrome beauties. Whenever the need arises, simply reach out to us, and we'll come to your aid, ensuring the safe and secure transportation of your prized motorcycle.
Towing For Any Sized Bike
What sets J&M Windermere Towing apart is our unwavering commitment to towing motorcycles of all sizes, regardless of the underlying issue. Whether you find yourself grappling with a Harley-Davidson or an aging Suzuki that has been hibernating in your garage for years, rest assured that we possess the expertise and equipment to retrieve it and transport it to your desired destination with care and precision.
Moreover, our services are available round the clock, 24 hours a day, 7 days a week. This means you can bid farewell to the worry of being stranded on the roadside in the dead of night, as our dedicated team is always ready to spring into action.
How Do You Tow A Motorcycle?
There exists a distinct method of towing a motorcycle correctly. The last thing anyone desires is to witness their beloved bike suffer harm at the hands of an inexperienced towing company lacking familiarity with the intricacies of the job.
At J&M Windermere Towing, we understand that a mere hook-up to a wrecker won't suffice when it comes to towing motorcycles (man, you can't just drag that thing down the road, bouncing and banging). Instead, we employ meticulous methods such as securing the bike onto one of our reliable flatbeds or utilizing a specialized towing cradle (although, we must admit, we have a fondness for the effectiveness of flatbeds in this scenario).
Should you find yourself uncertain about how to safely tow your motorcycle, rest assured that our team of professionals at J&M Windermere Towing is here to assist. With our extensive experience and unparalleled expertise, we possess the knowledge to tow your motorcycle swiftly, securely, and without incurring any damage.
When Is It Time For A Tow?
Motorcycle towing needs can arise from various circumstances, but our proficient team at J&M Windermere Towing is well-equipped with the necessary tools and accessories to handle any trouble that comes our way.
Should you find yourself stranded due to an empty tank, we've got you covered with fuel delivery services. If a lifeless battery is causing frustration, our expert team can swiftly provide a jumpstart. And if a troublesome engine is causing headaches, count on us to transport your motorcycle to a trusted mechanic for necessary repairs.
Rest assured that with J&M Windermere Towing at your side, there's no need to worry about a single thing. We are here to provide comprehensive assistance, addressing any problem that may arise with your motorcycle.
When it comes to motorcycle towing in Windermere, Florida, there's only one name you need to remember: J&M Windermere Towing. Our reliable services are available 24 hours a day, 7 days a week. Give us a call and allow us to extend our helping hand whenever you need it.
Whenever you need a motorcycle tow service, put our team at the top of the list. We're always ready to help at (407) 584-3391.
Satisfaction Guaranteed!
J&M Windermere Towing is a leading towing company in the Windermere community, known for their exceptional service and commitment to customer satisfaction. With a team of highly skilled professionals and a fleet of well-maintained tow trucks, we offer reliable and efficient towing services for vehicles of all sizes. Whether it's a lockout situation, a jumpstart, or a vehicle recovery, J&M Windermere Towing is the trusted partner to rely on for prompt assistance and top-notch service.

I was incredibly impressed with their service. Their team arrived promptly, handled my vehicle with care, and provided excellent customer support throughout the entire towing process. I highly recommend J&M Windermere Towing for their professionalism and reliable towing services.

I had a fantastic experience with J&M Windermere Towing. Their team was friendly, efficient, and went above and beyond to assist me when I was stranded on the roadside. I highly recommend their services for anyone in need of fast and quality towing assistance.

I cannot thank J&M Windermere Towing enough for their exceptional service. They responded quickly to my call, provided a seamless towing experience, and their staff was professional throughout. I highly recommend them for their customer-centric approach.