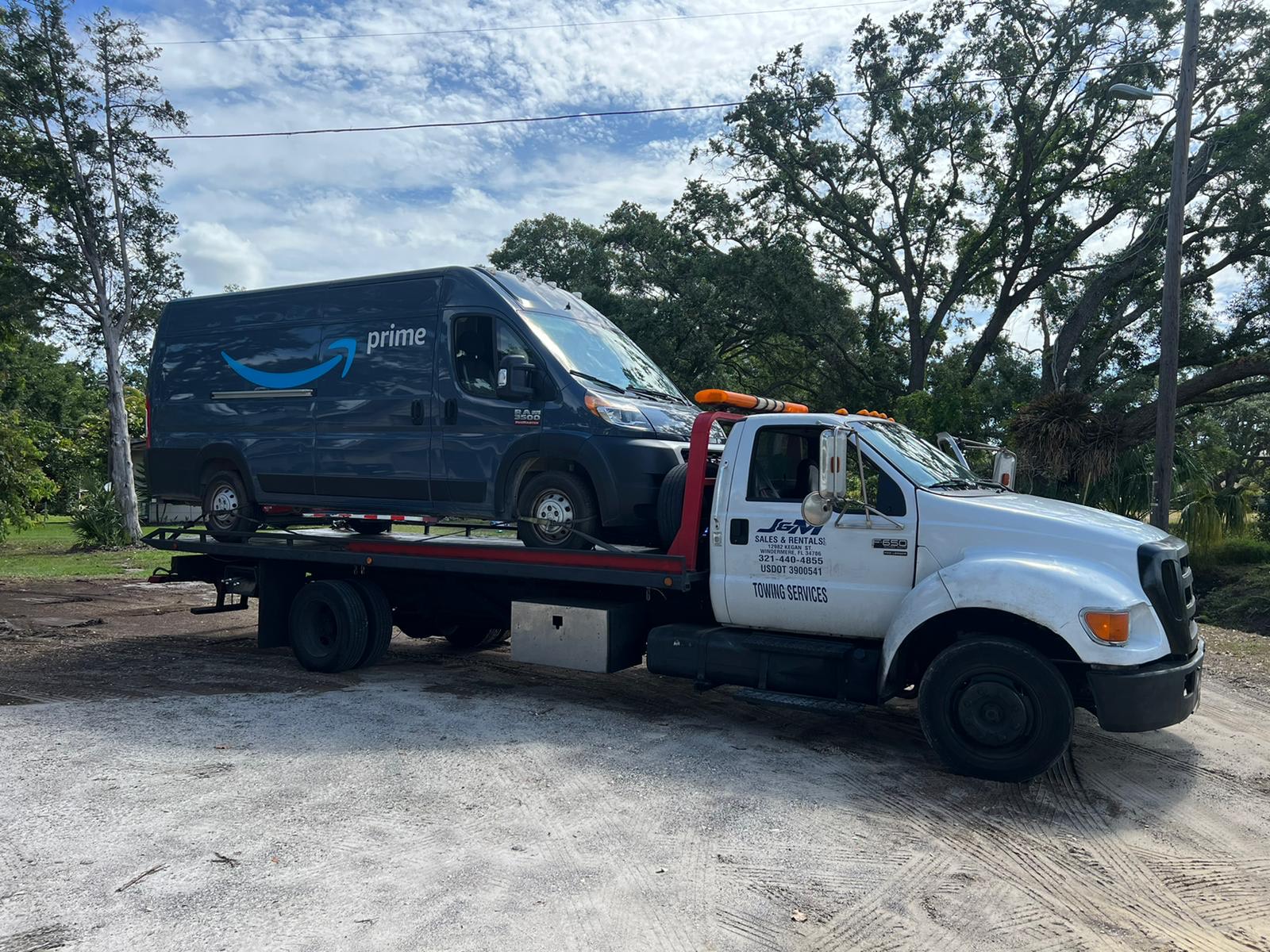 OUTSTANDING CUSTOMER SERVICE
J&M Windermere Towing is known for our excellent customer service, going above and beyond to ensure that every customer receives personalized attention, prompt assistance, and a positive towing experience.

FAST AND TRUSTED SERVICES
J&M Windermere Towing prides itself on delivering reliable services, consistently surpassing customer expectations with their professionalism, efficiency, and dedication to resolving towing needs swiftly and effectively.

TRAINED EXPERTS YOU CAN TRUST
J&M Windermere Towing boasts a team of highly skilled experts who possess extensive knowledge and expertise in the field, allowing them to tackle towing challenges with precision, ensuring the safe handling and transport of vehicles.
Welcome to Montverde, a picturesque town nestled in Lake County, Florida. J&M Windermere Towing is delighted to extend our reliable and professional assistance to the residents and visitors of Montverde. With its natural beauty, small-town charm, and close-knit community, Montverde offers a tranquil and inviting atmosphere.
Montverde is renowned for its scenic landscapes and serene surroundings. The town is surrounded by rolling hills, pristine lakes, and lush vegetation, creating a picturesque setting that attracts nature lovers and outdoor enthusiasts. Residents and visitors can enjoy activities such as hiking, biking, fishing, and boating in the nearby Lake Apopka and other surrounding bodies of water. The stunning natural beauty of Montverde provides a peaceful escape from the hustle and bustle of city life.
In addition to its natural allure, Montverde is known for its close-knit community and small-town charm. The town's friendly atmosphere fosters a strong sense of belonging and a supportive community spirit. Knowing this, our phone number probably gets passed around a lot. Residents take pride in their town and actively engage in local events and initiatives that enhance the quality of life for everyone. From community festivals to farmers markets, there are plenty of opportunities to connect with neighbors and build lasting friendships.
Despite its small size, Montverde offers convenient access to nearby amenities and attractions. Located just a short drive away from major cities such as Orlando and Clermont, residents can easily access a wide range of shopping, dining, and entertainment options. The nearby Clermont Historic Village offers a glimpse into the area's rich history, showcasing historic buildings and providing educational exhibits. For those seeking a day of adventure, the famous theme parks and attractions of Orlando, including Walt Disney World Resort and Universal Orlando Resort, are within reach.
Education is highly valued in Montverde, with a focus on providing quality schooling options. The town is home to Montverde Academy, a prestigious college-preparatory school known for its academic excellence and diverse student body. The academy offers a comprehensive curriculum and a range of extracurricular activities, providing students with a well-rounded educational experience.
At J&M Windermere Towing, we realize that vehicle emergencies can occur unexpectedly. That's why we are committed to providing prompt and reliable towing services in Montverde. Our experienced team is available 24/7, ready to assist you with any towing, roadside assistance, or vehicle recovery needs. We prioritize your safety and convenience, ensuring that you receive prompt and professional assistance to navigate any unforeseen circumstances.
Montverde is a hidden gem that offers a combination of natural beauty, small-town charm, and a supportive community. With its scenic landscapes, outdoor recreational opportunities, proximity to major cities, and reliable towing services from J&M Windermere Towing, Montverde provides a tranquil and enjoyable living experience for its residents and a memorable visit for its visitors.
J&M Windermere Towing at (407) 584-3391.
Satisfaction Guaranteed!
J&M Windermere Towing is a leading towing company in the Windermere community, known for their exceptional service and commitment to customer satisfaction. With a team of highly skilled professionals and a fleet of well-maintained tow trucks, we offer reliable and efficient towing services for vehicles of all sizes. Whether it's a lockout situation, a jumpstart, or a vehicle recovery, J&M Windermere Towing is the trusted partner to rely on for prompt assistance and top-notch service.

I was incredibly impressed with their service. Their team arrived promptly, handled my vehicle with care, and provided excellent customer support throughout the entire towing process. I highly recommend J&M Windermere Towing for their professionalism and reliable towing services.

I had a fantastic experience with J&M Windermere Towing. Their team was friendly, efficient, and went above and beyond to assist me when I was stranded on the roadside. I highly recommend their services for anyone in need of fast and quality towing assistance.

I cannot thank J&M Windermere Towing enough for their exceptional service. They responded quickly to my call, provided a seamless towing experience, and their staff was professional throughout. I highly recommend them for their customer-centric approach.