Windermere Emergency EV Charging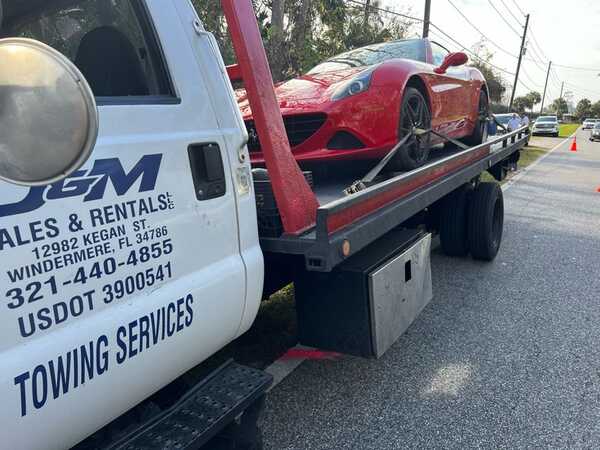 OUTSTANDING CUSTOMER SERVICE
J&M Windermere Towing is known for our excellent customer service, going above and beyond to ensure that every customer receives personalized attention, prompt assistance, and a positive towing experience.

FAST AND TRUSTED SERVICES
J&M Windermere Towing prides itself on delivering reliable services, consistently surpassing customer expectations with their professionalism, efficiency, and dedication to resolving towing needs swiftly and effectively.

TRAINED EXPERTS YOU CAN TRUST
J&M Windermere Towing boasts a team of highly skilled experts who possess extensive knowledge and expertise in the field, allowing them to tackle towing challenges with precision, ensuring the safe handling and transport of vehicles.
To quote Fleetwood Mac: Yesterday's gone.
If your vehicle ever breaks down on the roadside, it's not guaranteed to be a Dodge Aspen or a black Pontiac Trans-Am. Due to the increasing prevalence of battery-powered vehicles in recent years, we need to consider the possibility that your car is electric.
That's where J&M Windermere Towing comes in. We take this into account, which is why we are pleased to offer an always-available EV charging service. If you ever find yourself in a situation where your Tesla, ID Buzz, Rivian R1T, or other kind of EV has issues, simply give us a call. We will gladly bring the charging solution directly to you.
Help With Your EV
Our service has recently been upgraded to cater to electric vehicles. This means that we not only provide flatbed towing for EVs, but we also carry a portable charger with us. This ensures that if your vehicle requires an emergency charge while on the road, you don't have to worry about being stranded with a depleted battery. J&M Windermere Towing is committed to assisting you in getting back on the road safely and promptly.
Our team consists of trained and experienced experts who specialize in working with EVs. We possess a thorough understanding of their operations, enabling us to deliver the best possible service. Our priority is to swiftly get you back on the road while ensuring that your car is fully charged and ready to continue its journey.
EV Towing
If we are unable to charge your car on the road, rest assured that we will tow it to a nearby charging station. Our fleet is fully equipped to handle any type of electric vehicle, eliminating any concerns about your car's safety. We prioritize promptness and will quickly transport your vehicle to a charging station, ensuring it is securely positioned for the journey.
With J&M Windermere Towing by your side, there is no need to worry. Our emergency EV charging service operates around the clock, ready to assist you whenever you require it. If you ever find yourself in need of assistance, simply give us a call, and we will gladly provide the support you need. Our experienced team and reliable vehicle fleet are dedicated to getting you back on the road swiftly and efficiently.
Trusted Service For Your EV
When it comes to your emergency EV charging needs, J&M Windermere Towing is the company to rely on. Our extensive experience, top-notch equipment, and specialized expertise allow us to swiftly charge up and revive your car. If you ever find yourself in a situation where your electric vehicle has come to a halt, leaving you concerned about being stranded with a depleted battery, don't hesitate to reach out to us. We are here to provide prompt assistance.
At J&M Windermere Towing, we understand the importance of addressing the unique requirements of electric cars. Our team of highly qualified professionals possesses the necessary knowledge and proficiency in working with EVs, ensuring that you receive exceptional service. Moreover, our fleet includes wreckers capable of handling any type of electric vehicle, guaranteeing that we can handle any situation that arises. Additionally, we also offer other services, including motorcycle towing, truck towing, jumpstarts, and more! So, if you ever require emergency EV charging in Windermere or other services, do not hesitate to contact our skilled crew without delay.
Call J&M Windermere Towing at (407) 584-3391.
Satisfaction Guaranteed!
J&M Windermere Towing is a leading towing company in the Windermere community, known for their exceptional service and commitment to customer satisfaction. With a team of highly skilled professionals and a fleet of well-maintained tow trucks, we offer reliable and efficient towing services for vehicles of all sizes. Whether it's a lockout situation, a jumpstart, or a vehicle recovery, J&M Windermere Towing is the trusted partner to rely on for prompt assistance and top-notch service.

I was incredibly impressed with their service. Their team arrived promptly, handled my vehicle with care, and provided excellent customer support throughout the entire towing process. I highly recommend J&M Windermere Towing for their professionalism and reliable towing services.

I had a fantastic experience with J&M Windermere Towing. Their team was friendly, efficient, and went above and beyond to assist me when I was stranded on the roadside. I highly recommend their services for anyone in need of fast and quality towing assistance.

I cannot thank J&M Windermere Towing enough for their exceptional service. They responded quickly to my call, provided a seamless towing experience, and their staff was professional throughout. I highly recommend them for their customer-centric approach.