What We Offer
J&M Windermere Towing is a reputable towing company that has been serving the Windermere community for years. With a strong commitment to providing reliable and efficient towing services, J&M Windermere Towing has established itself as a trusted name in the industry. Our fleet of well-maintained tow trucks is equipped with state-of-the-art technology, enabling us to provide prompt and dependable roadside assistance. We offer a wide range of towing and roadside assistance services, including truck towing, car towing, cheap towing, lockouts, jumpstarts, and emergency EV charging. Whether you find yourself stranded on the side of the road or need assistance with a vehicle recovery, J&M Windermere Towing is the reliable partner you can trust to get the job done right.
CHEAP TOWING
Cheap towing services for affordable and budget-friendly options for individuals in need of immediate roadside assistance or vehicle transportation.
MOTORCYCLE TOWING
Motorcycle towing services to safely handle and transport motorcycles, ensuring their protection and preventing potential damage during the towing process.
TRUCK TOWING
Truck towing services for a reliable solution for businesses and individuals dealing with oversized or specialized transportation needs.
Lockout Service
Lockout services for swift and professional assistance in situations where individuals find themselves locked out of their vehicles.
Emergency EV Charging
Emergency EV charging services for reliable and convenient solution for electric vehicle owners who find themselves with a depleted battery.
Jumpstart Service
Jumpstart services for quick and efficient solution for vehicle owners facing a dead battery, providing them with the ability to start their vehicles promptly.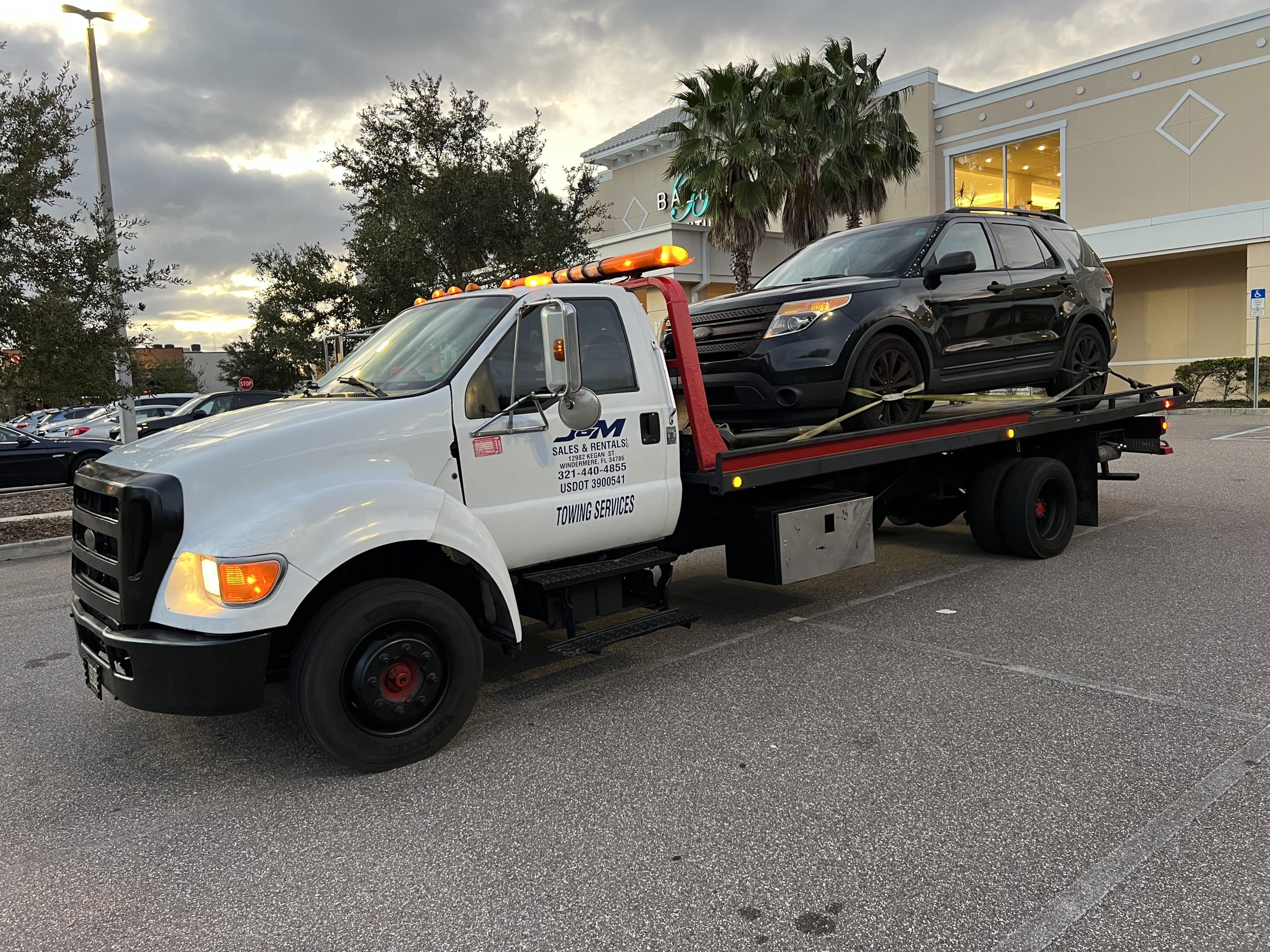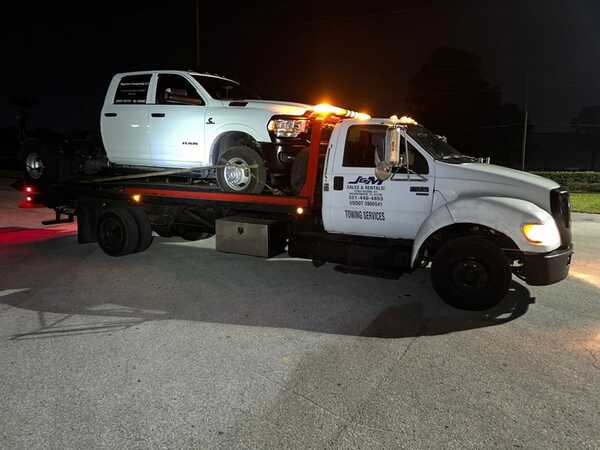 OUTSTANDING CUSTOMER SERVICE
J&M Windermere Towing is known for our excellent customer service, going above and beyond to ensure that every customer receives personalized attention, prompt assistance, and a positive towing experience.

FAST AND TRUSTED SERVICES
J&M Windermere Towing prides itself on delivering reliable services, consistently surpassing customer expectations with their professionalism, efficiency, and dedication to resolving towing needs swiftly and effectively.

TRAINED EXPERTS YOU CAN TRUST
J&M Windermere Towing boasts a team of highly skilled experts who possess extensive knowledge and expertise in the field, allowing them to tackle towing challenges with precision, ensuring the safe handling and transport of vehicles.
J&M Windermere Towing Company
When you need dependable towing in Orange County, turn to J&M Windermere Towing. 24 hours a day, 7 days a week, we move fast to get your vehicle to a safe place with professional service and courtesy.
J&M Windermere Towing Company offers towing services for a wide range of vehicles, including trucks, cars, motorcycles, big rigs, and more. This means that no matter what type of vehicle you need towed, you can count on us to get the job done right.
24/7 Roadside Rescues:

Gear up for unexpected mishaps with J&M Windermere Towing Company. We've got your back around the clock, offering emergency towing services to whisk you out of sticky situations and get you rolling again in no time.

Towing Titans:

Our crack team of towing experts is like a superhero squad for your stranded vehicle. With their extraordinary skills and training, they conquer the trickiest towing challenges, ensuring your ride is handled with utmost care. We'll save the day while providing top-notch customer service.

Unwavering Aid:

At J&M Windermere Towing Company, we're laser-focused on lending a hand to stranded motorists. No breakdown blues can dampen our determination. We're here to get your disabled vehicle to the right mechanic and expedite your return to the open road.

Sunshine State of Service:

Step into the rays of our friendly service at J&M Windermere Towing Company. We believe that every interaction should be a beam of positivity, and our team of amiable professionals is committed to making your towing experience as bright and cheerful as a Florida day.
Look no further than J&M Windermere Towing Company for top-notch, trustworthy, and budget-friendly towing services in Orange County. Our drivers are always up and at 'em with the service you need at the time you need it. Keep our number saved.
Contact us at (407) 584-3391!
What You Get When You Call
At J&M Windermere Towing Company, we've got your back when it comes to all your vehicular emergencies. Our team of seasoned professionals is ready to tackle any situation with expertise, finesse, and utmost regard for safety. Here's a glimpse of the top-notch services we happily provide:
Winching: When you find yourself in a tough spot, our skilled team will skillfully employ specialized equipment to extract your vehicle safely from any dicey or precarious situation.

Lockout Service: Locked out of your beloved wheels? No worries! We'll swiftly and securely regain access to your vehicle, ensuring you retrieve those keys without breaking a sweat.

Fuel Delivery: Running on empty? Not to worry, Jackson Browne. We've got the fuel to keep you going. Our efficient team will bring the much-needed fuel right to your location, putting you back on the road in no time.

Towing: From motorcycles to trucks to cars, we've got the muscle to tow them all. Our versatile fleet of trucks, including flatbeds, wreckers, and integrated tow trucks, is at your service, tailored to meet your specific needs.

Wrecker Service: If you've been in an accident, give us a call. Equipped with powerful winches and specialized towing equipment, we ensure a safe and seamless transport—and mess clean-up—of your vehicle from accident scenes.
No matter the vehicular predicament you find yourself in, J&M Windermere Towing Company has got you covered. We provide a comprehensive array of professional services to tackle any emergency on the road. Equipped with state-of-the-art tools and a versatile fleet of trucks, including wreckers, flatbeds, and integrated tow trucks, our team stands ready to handle any job with precision, efficiency, and utmost safety.
Areas We Service
We've been to more places in Orange County than out-of-state tourists looking for a parking slot close to Disney World. Suffice to say, our drivers don't get lost. So don't scroll through page after page of other towing companies online. Don't even check the Yellow Pages (are those even still around?). Instead, dial the number for J&M Windermere Towing Company.
Ocoee
Winter Garden
Maitland
Windermere (right here!)
Belle Isle
Eatonville
Oakland
Orange County Towing
J&M Windermere Towing Company is your reliable ally in a multitude of situations where a tow becomes a necessity. Allow us to shed light on some typical scenarios where our assistance can save the day:
Getting Stuck in a Ditch: Oops! That all-wheel drive beauty got in over its head. If you find yourself in a pickle, navigating difficult terrain, try not to worry. J&M Windermere Towing Company is equipped with the skills and equipment to swiftly winch your vehicle out of a ditch and back onto the road where it belongs.

Engine Trouble: Oh no, engine woes! When your vehicle experiences trouble, be it overheating, stalling, or other mysterious issues, a tow may be in order. Our reliable towing service ensures your stricken vehicle arrives safely at a repair shop for diagnosis and necessary repairs.

Running Out of Fuel: And you thought that gas gauge was accurate. Should you find yourself stranded due to running out of fuel while on the road, one of our trusty tow trucks will come to your aid. We'll transport your vehicle to the nearest gas station or get you fueled from a jerry can, getting you ready to roll again.

Accident Assistance: In the unfortunate event of a car accident, our dedicated wreckers are at your service. With their expertise, they'll help you transport your vehicle to a repair shop or any other desired location for further evaluation and repairs.
We also handle car battery replacement and jumpstarts. No matter the situation, J&M Windermere Towing Company is your go-to partner for reliable and efficient assistance.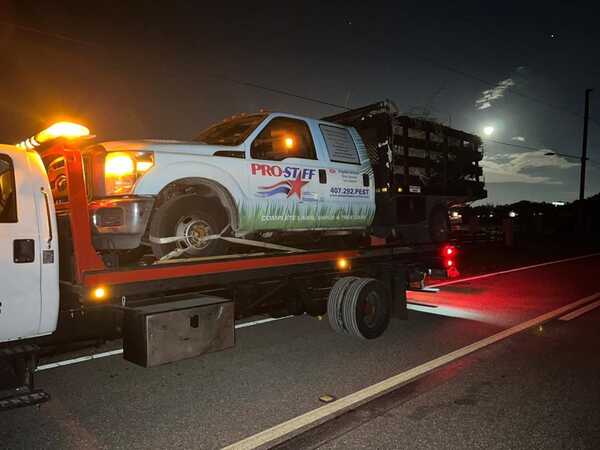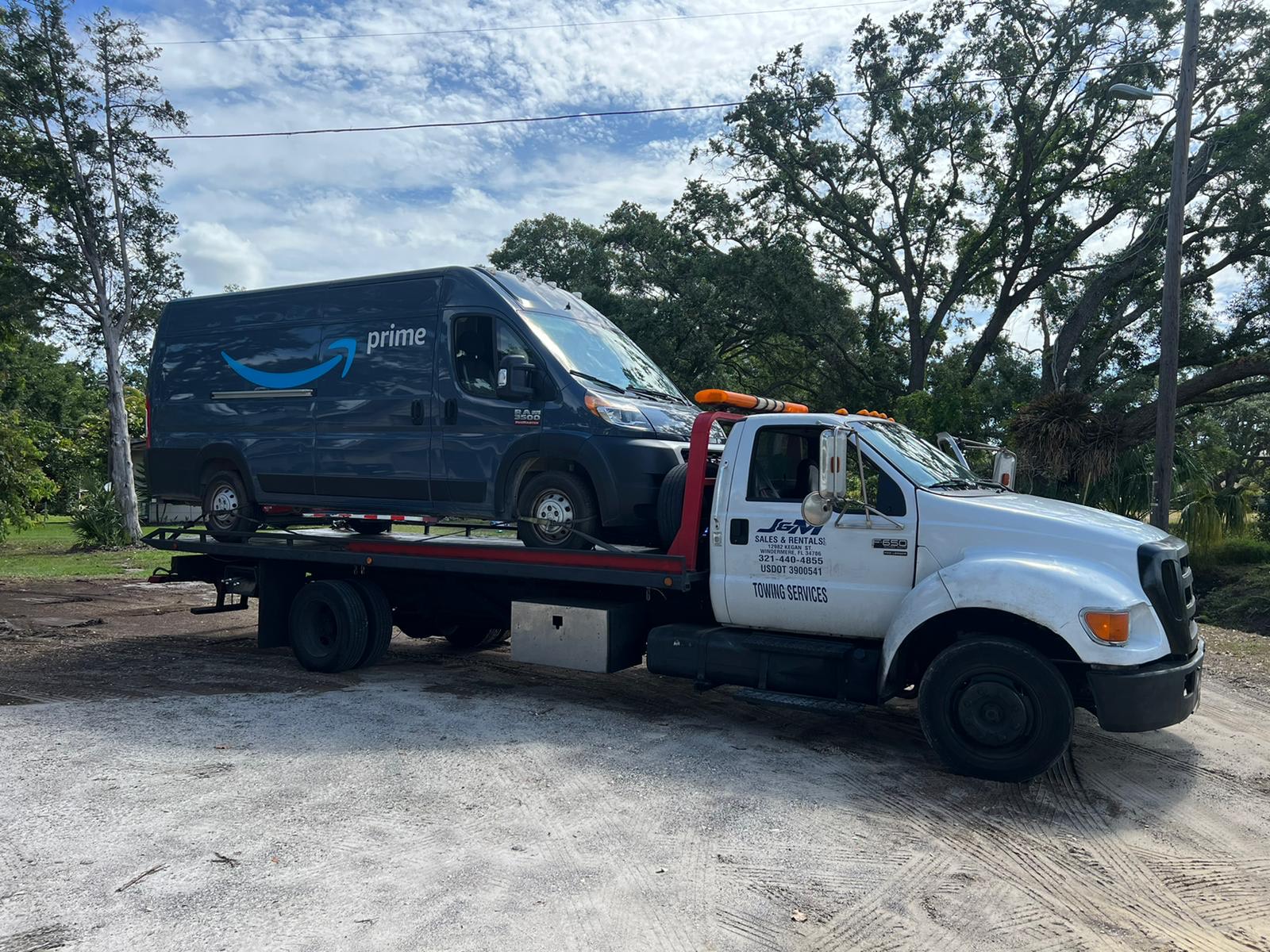 The Process
When you reach out to J&M Windermere Towing Company, our "good joe" team of professionals will gather all the vital details about your situation, your precise whereabouts, and the type of vehicle involved. These crucial pieces of information allow us to orchestrate a seamless dispatch of the appropriate equipment and skilled driver to your location, swiftly and efficiently.
With the necessary information in hand, our team springs into action, sending a driver your way in a matter of minutes. Our drivers boast extensive experience and possess an unparalleled familiarity with the entire county. It only takes a few minutes for us to reach you.
Whether it calls for a simple jump-start or a more intricate towing operation, rest assured that our team possesses the expertise and cutting-edge equipment needed to execute the task flawlessly.
Count on our affable professionals to gather all the essential details regarding your location, predicament, and vehicle type. With a keen eye for safety, our driver will efficiently evaluate the situation, swiftly determining the optimal approach to deliver you and your vehicle to a secure haven.
Dial (407) 584-3391.
A Truck For Every Issue
We don't run some dirty old lot with just one or two rusty trucks parked along a corrugated steel fence. Come on, man, things are better than that.
We offer:
Integrated towing for heavy jobs

Flatbed towing

Hook and chain towing (dolly towing)

Flat tow bar towing (four-wheel down towing)
When you call us, you're calling the finest towing company in Orlando. So let's get you out of that unpleasant situation and back on the road.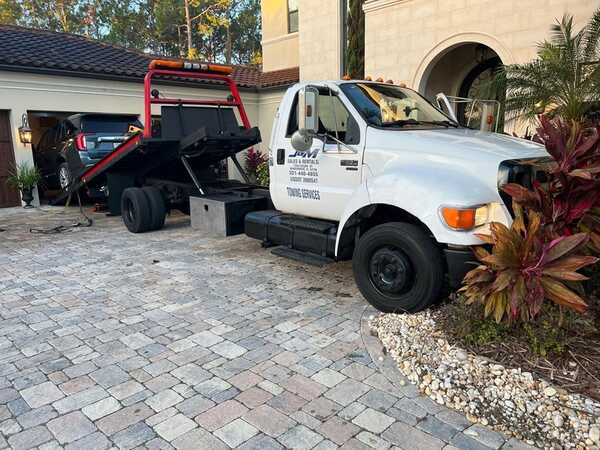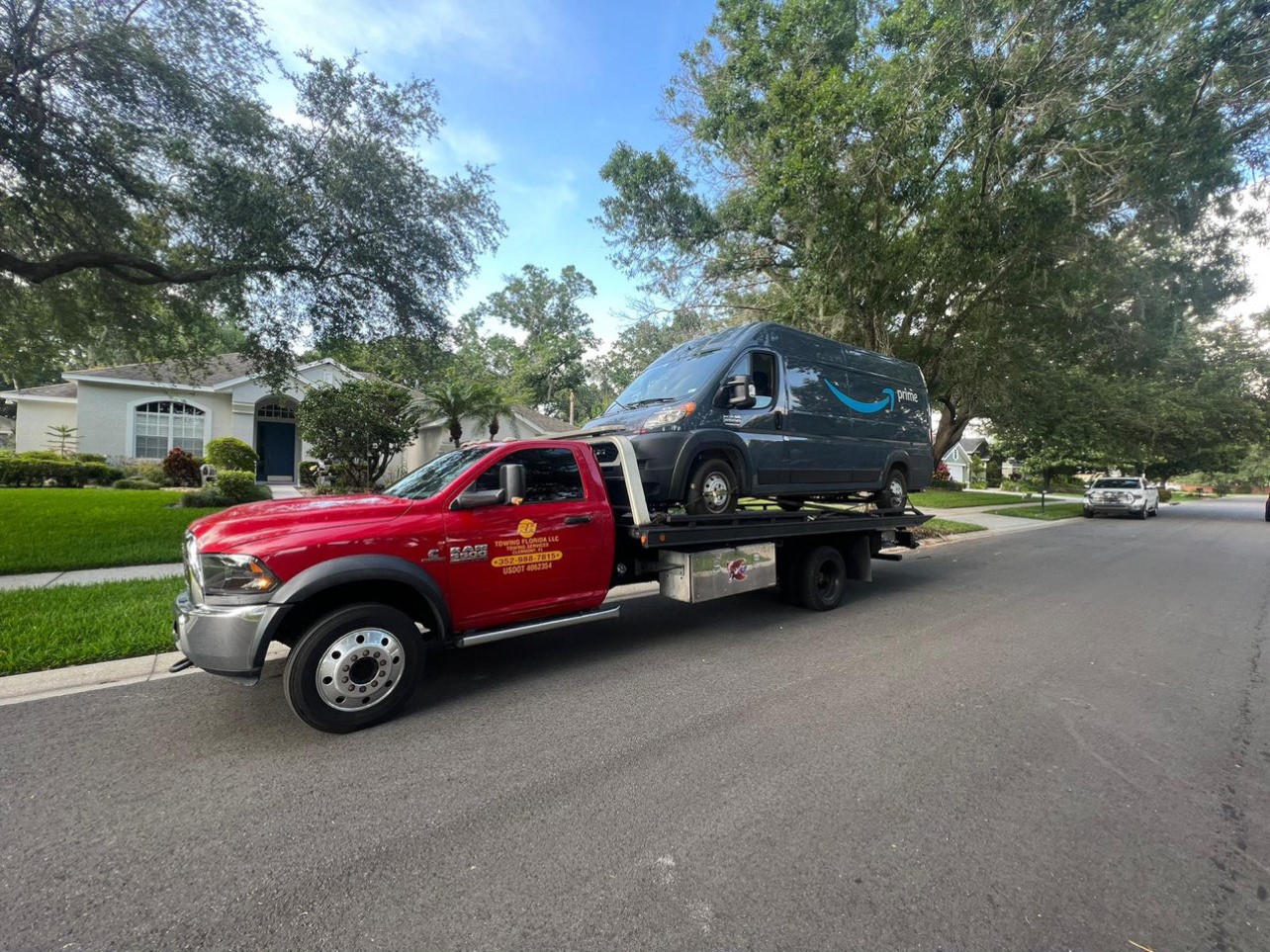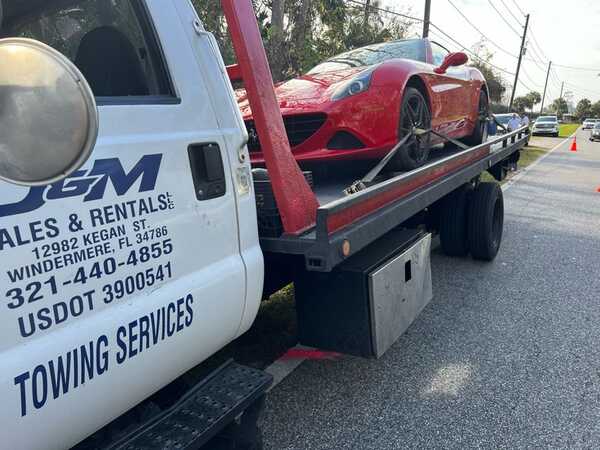 Why Call Us?
When it comes to towing services, the choice of the right company can truly be a game-changer. At J&M Windermere Towing Company, we hold our heads high, driven by our unwavering dedication to delivering unparalleled service to our valued customers.
Allow us to illuminate a few compelling reasons why opting for our services triumphs over selecting any other towing company out there:
Unwavering Reliability: We take immense pride in our team's extensive training, licensing, and insurance coverage. Our unwavering commitment to reliability and trustworthiness has established us as a beacon of dependability within the community.

Cutting-Edge Towing Expertise: Our dedication to staying at the forefront of modern towing methods and equipment sets us apart. We consistently stay updated on the latest techniques and tools, ensuring our ability to tackle any towing job swiftly and efficiently.

Impressive Fleet at Your Service: With a diverse array of tow trucks at our disposal, including wreckers, flatbeds, and integrated tow trucks, we possess a robust fleet. This allows us to provide prompt and responsive service to customers across the entirety of Orange County, catering to their towing needs without delay.
Contact J&M Windermere Towing at (407) 584-3391!
Satisfaction Guaranteed!
J&M Windermere Towing is a leading towing company in the Windermere community, known for their exceptional service and commitment to customer satisfaction. With a team of highly skilled professionals and a fleet of well-maintained tow trucks, we offer reliable and efficient towing services for vehicles of all sizes. Whether it's a lockout situation, a jumpstart, or a vehicle recovery, J&M Windermere Towing is the trusted partner to rely on for prompt assistance and top-notch service.

I was incredibly impressed with their service. Their team arrived promptly, handled my vehicle with care, and provided excellent customer support throughout the entire towing process. I highly recommend J&M Windermere Towing for their professionalism and reliable towing services.

I had a fantastic experience with J&M Windermere Towing. Their team was friendly, efficient, and went above and beyond to assist me when I was stranded on the roadside. I highly recommend their services for anyone in need of fast and quality towing assistance.

I cannot thank J&M Windermere Towing enough for their exceptional service. They responded quickly to my call, provided a seamless towing experience, and their staff was professional throughout. I highly recommend them for their customer-centric approach.
Call Us Today!
When you choose J&M Windermere Towing Company, you're selecting a trusted partner for reliable and efficient towing services. Our team stays abreast of the latest techniques and equipment, ensuring we provide top-notch assistance when you need it most. With our substantial fleet of tow trucks and a firm commitment to trustworthiness, we proudly stand as the premier choice for towing services in the area.
If you find yourself in need of professional towing services in Windermere, Florida, or its surrounding areas, J&M Windermere Towing Company is your go-to solution. Our team of experienced drivers and modern tow truck fleet are at your service 24/7 to handle any vehicular emergency with the utmost reliability and efficiency. Don't hesitate to contact us today for dependable and effective assistance.
Contact J&M Windermere Towing Company at (407) 584-3391.